Alternative of Hostgator India is Dewlance.com
Hostgator India is only 1 year old. But if your website goes down frequently and you want to choose the best possible hosting provider, are looking for an alternative to Hostgator.in or are frustrated with bad Indian hosting companies that claim all sorts of things but once you purchase, show their real face, then the Dewlance.com hosting offer is a very good alternative for you.
Hostgator India have very poor reviews. Most customers are frustrated by slow servers and a lot of downtime. You can read information on Facebook or customer reviews of Hostgator India on the Internet and find that many people complain about downtime, poor customer services, etc. Look at this screenshot: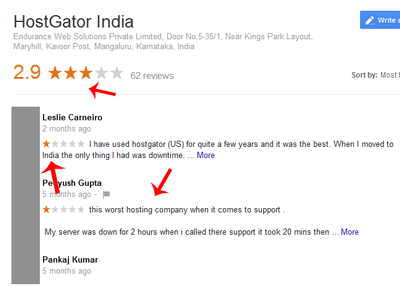 Reasons to Choose Dewlance – The Hostgator .in Alternative
1. Dewlance use SSD: I think you know about SSD. They use Solid State Disk aka SSD which is 300% faster than normal HDD Disk.
2. Made in India: If you are a fan of made in India, you have another good reason to choose Dewlance since it is a 100% Indian company while Hostgator is a foreign company. By Choosing Dewlance, you will contribute to the India Program.
3. Fast Website Speed: Dewlance use Special customization and put limits on hosting a certain number of websites while big companies host many websites on the same server and sometimes this overloads the servers.
Dewlance host limited websites on each server, which is quite good and allows your sites to run faster.
Multiple Datacenter vs a Single One:
If you don't know, many Indian customers face downtime issues when their sites are hosted in Indian datacenters because most datacenters in India are not capable of giving a 100% uptime guarantee. However, Dewlance have a server in the United States, located in a premium datacenter, as well as other servers located in UK and Canada. Most people prefer to host their website on US/UK servers because they guarantee fast speed. Your site will load quicker in most countries, especially in India, because the Dewlance's US/UK server is an Asia-optimized server.
Low Price vs High Price - (The Hostgator India's Alternative is Dewlance.com)
Since Dewlance is a small company, it is capable of providing the same service at a more affordable price. In contrast, big companies add up the price of employees' salary, datacenter costs, etc., all included in your hosting price so you are not only paying for your site but you also pay for their datacenters, the salaries of their personnel, costs to maintain infrastructure and security costs.
Yearly price VS monthly - Compare price
Dewlance charge only Rs.600 yearly while Hostgator's price is Rs.400 per month, which is quite expensive in comparison. Why pay more? Choose Dewlance!
Look at this screen shot:

Fast Ticket & Billing Ticket Response of Dewlance
According to Dewlance, they spend 60% of their money on customer services and quick resolution time because they do not have separate ticket departments. This in turn means that your ticket will not be moved from one department to another. In contrast, most other hosting companies take longer time, like 3 to 4 days, to respond when you open a ticket with their billing department but they quickly respond on sales tickets. On the other hand, your ticket issue with Dewlance will be resolved quickly.
Personal Support:
You can directly contact Dewlance via WhatsApp or Gtalk and ask for an update or ask a sales question while other big companies can't provide this.
Excellent Uptime Record of Dewlance and Free Migration
Uptime history shows 100% uptime, which is excellent. They use separate servers, maintain limited amount of websites on each server and also use a DNS Cluster, which gives a 100% Uptime.
Free Migration Service - Migrate your site to Dewlance for free.
If you want to migrate your site to another hosting provider, Dewlance is offering a free migration service. If you are new to migration, you can chose them. Dewlance is 7+ Year old company and is registered in New Delhi, India (Bharat).